Siri Mitchell's She Walks in Beauty is on the INSPY shortlist for Historical Fiction.
Summary of She Walks in Beauty (Goodreads):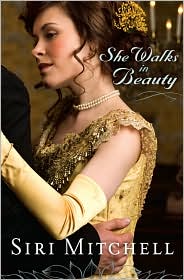 For a young society woman seeking a favorable marriage in the late 1890s, so much depends on her social season debut. Clara Carter has been given one goal: secure the affections of the city's most eligible bachelor. Debuting means plenty of work–there are corsets to be fitted, dances to master, manners to perfect. Her training soon pays off, however, as  celebrity's spotlight turns Clara into a society-page darling. Yet Clara wonders if this is the life she really wants, especially when she learns her best friend has also set her sights on Franklin De Vries. When a man appears who seems to love her simply for who she is, and gossip backlash turns ugly, Clara realizes it's not just her heart at stake–the future of her family depends on how she plays the game.
Why do you write historical fiction?
I feel that historical fiction provides a wayto approach themes and address issues in a less confrontational way. It's easier to ask a reader to think about self-esteem and the consequences of faith-by-the-rules if I'm doing it in the context of the seventeenth to nineteenth centuries. It's amazing how people living in different times and places ask themselves the same questions. I'm constantly surprised by two things as I write: just how similar folks in past eras were to people today… and just how different they were.
What are the challenges/benefits of incorporating faith into your story?
Faith in history didn't often look the way it does now. Concepts like justification and assurance of salvation were incorporated into Christian traditions relatively recently. Things like a quiet time and Bible study are actually quite modern disciplines. Also popular to our times are believers who have moved from pastor-fed-and-led faith to more a more personal and active faith and experience. I try to portray the faith and faith practices of the era my books are set in, but in doing so I risk being labeled a tepid Christian or criticized for writing "faith-lite."
Favorite book─favorite movie─favorite TV show?
My favorite book seems to change constantly. Just today I finished Once Upon a Town (cried the whole way through). For movies, I'll never tire of watching While You Were Sleeping. And for TV shows? House (what a character! I'm both fascinated and repelled by him, but mostly my writer's brain wants to know why I keep tuning in for more).
How do you feel about blogging? Do you have a blog?
I love blogs. I love posting as a guest or doing interviews, but I have to confess that I don't have a blog. When I write a novel, generally the themes that emerge are those that I am grappling with. I've always been a terrible letter writer and a big failure with anything having to do with journals or diaries. I've come to realize that it takes me about 80,000 words to say anything worth saying. The reason I write novels is to answer questions that I'm asking myself. Because of that, the most interesting things I have to say are in my books. Outside of fiction, I'm really rather boring. And due to my experiences as a military spouse and time spent living overseas, I'm reluctant to talk in too much detail about my family. Lack of hobbies + self-censoring = not much to say, at least not on a regular basis.
Tell us about a book that epitomizes quality [Christian] faith-driven lit.
Zora and Nicky by Claudia Mair Burney. It confronts difficult issues straight on, diving underneath assumptions and clichés, speaking to Christianity as it's viewed through the lens of culture. It's a quite literal and literary investigation into how Christianity can build bridges.
Siri Mitchell graduated from the University of Washington with a business degree and worked in various levels of government. As a military spouse, she has lived all over the world, including Paris and Tokyo. Siri enjoys observing and learning from different cultures. She is fluent in French and loves sushi.  Siri wrote 4 books and accumulated 153 rejections before signing with a publisher. In the process, she saw the bottoms of more pints of Ben & Jerry's than she cares to admit.