Julie Klassen's The Silent Governess is on the INSPYs shortlist for Historical Fiction.
Summary of The Silent Governess (Goodreads):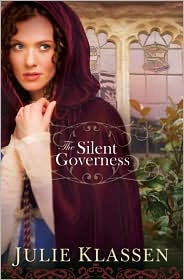 Believing herself guilty of a crime, Olivia Keene flees her home, eventually stumbling upon a grand estate where an elaborate celebration is in progress. But all is not as joyous as it seems…. Lord Bradley has just learned a terrible secret, which, if exposed, will change his life forever. When he glimpses a figure on the grounds, he fears a spy or thief has overheard his devastating news. He is stunned to discover the intruder is a scrap of a woman with her throat badly injured. Fearing she will spread his secret, he gives the girl a post and confines her to his estate. As Olivia and Lord Bradley's secrets catch up with them, will their hidden pasts ruin their hope of finding love?
Why do you write?
I've loved to read and write since I was a young girl, so I'm very thankful to be writing books as I've long dreamed of doing. I write to delight readers and to glorify God. I cannot claim that I've never longed for success on worldly terms. But the older I get, the more I am grasping this truth: If it's not for Him, it's not worth much.
What are the challenges/benefits of incorporating faith into your story?
Challenge is right! I believe a novel must first of all be a good story. My hope is that the spiritual message is woven in so well, is such a part of the fabric of the story and of the characters' lives, that it is subtle but meaningful. That's the benefit!
Favorite book─favorite movie─favorite TV show?
Favorite books: The Secret Garden and Jane Eyre
Favorite movie: Pride & Prejudice
Favorite TV show: Masterpiece Theatre's two-part remake of Sense & Sensibility
How do you feel about blogging?  Do you have a blog?
At this point in my life (working as an editor part-time, raising two boys, and writing) I haven't managed to blog. But I do enjoy reading blogs and visit several quite often.
Tell us about a book that epitomizes quality [Christian] faith-driven lit.
There are so many quality Christian novels these days! Like so many readers, Francine Rivers' Redeeming Love is on my keeper shelf. I enjoy (and endeavor to write) novels in which imperfect people make mistakes, but a perfect heavenly Father offers forgiveness and second chances.
Julie Klassen is a fiction editor and novelist who loves all things Jane—Jane Eyre and Jane Austen.  She graduated from the University of Illinois and enjoys travel, research, BBC period dramas, long hikes, short naps, and coffee with friends.