Sara Zarr's Once Was Lost is on the INSPY's shortlist for Young Adult Fiction.
Summary of Once Was Lost (Goodreads):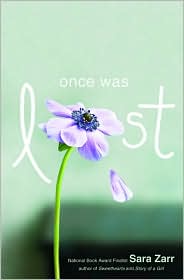 As a pastor's kid, it's hard not to buy into the idea of the perfect family, a loving God, and amazing grace. But lately, Sam has a lot of reasons to doubt. Her mother lands in rehab after a DUI, and her father seems more interested in his congregation than his family. When a young girl in her small town goes missing, the local tragedy overlaps with Sam's personal one, and the already worn thread of faith holding her together begins to unravel.
In her third novel, acclaimed author Sara Zarr examines the coexistence of affliction and hope, and what happens when everything you thought you believed—about God, your family, and yourself—is transformed.
Why do you write young adult fiction?
When I started to seriously pursue writing, there was never a point when I asked myself, "What shall I write? Mysteries? Comedies? Picture books?" Every story idea I had featured a protagonist who was in high school, and was set in the reality of the present. I read contemporary YA fiction voraciously as a teen and young woman and my desire to write was directly connected to the desire to write those kinds of books. I will say that as I age, I'm getting increasingly interested in writing about adults. Maybe someday.
What are the challenges/benefits of incorporating faith into your story?
Most of what I write does not directly incorporate faith, but all of it is written from my Christian worldview. It would be impossible to do otherwise. Every writer writes from some deeply-held worldview (whether or not it is faith-based) and that will slip into the way we tell stories, always. Once Was Lost is in part about religious faith, and it was tricky to pull off, especially since I write for a mainstream audience and am published by a mainstream publisher. My editor was really helpful in noting places where I was assuming familiarity with a subculture, as well as places where I was overexplaining it. Another challenge is the marketing of a book like that, since it isn't "Christian fiction" but it isn't not. I still feel like there's an audience for this book that hasn't quite been tapped into—teens (and adults) who take faith seriously but don't have and aren't looking for answers so much as an honest exploration of questions.
Favourite book – favourite movie – favourite TV show?
I have a strict policy about never calling anything my "favorite," as I have many many favorites and they are bound to change from day to day. Since we're talking about faith, I'll highlight some stuff that I think gives Christians a lot of meaty stuff to think about: for TV shows, Friday Night Lights is amazing, especially the first three seasons. (I also think there are some episodes of House that have some of the best and most challenging explorations of faith and doubt.) As for movies, the documentary Man on Wire is a must-see. The whole thing is a beautiful study of the contrast between living in fear and living in faith. One of my favorite books is All Together Now by Sue Ellen Bridgers, and it's one I try to remember to mention when anyone asks because it's not as well known as it should be.
How do you feel about blogging? Do you have a blog?
Yes, I've had a blog for years. I don't blog as much as I used to; a lot of the conversations people were having on blogs and in comments have migrated over to Twitter (which I also love). Still, I think a traditional blog is the best format for exploring topics or ideas in a bit more depth, while retaining immediacy, and getting those conversations going that might then continue on Twitter. It's also a handy way for writers to keep readers in the loop about what's going on with various projects and events.
Tell us about a book that epitomizes quality [Christian] faith-driven lit.
It's been years since I read it, but Vinita Hampton Wright's Velma Still Cooks in Leeway is, I think, a great example of a book put out specifically for a Christian audience that has all the qualities any great read should.
Sara Zarr is the acclaimed author of three novels for young adults.  Her short fiction and essays have also appeared in Image, Hunger Mountain, and several anthologies. She lives in Salt Lake City, Utah, with her husband.